[ad_1]

A UK police force has apologised after it published the names and addresses of victims of sexual assault on its website.
Suffolk Police says that it has launched an investigation into how victims' names, addresses, dates of birth, and details of reportedly hundreds of alleged offences were left on public view.
It's not presently clear long the information was available on the police website.
Representatives of charity Suffolk Rape Crisis warned that victims of sexual assault could not only be "retraumatised" by their personal details being made public, but also be put at risk of further threats.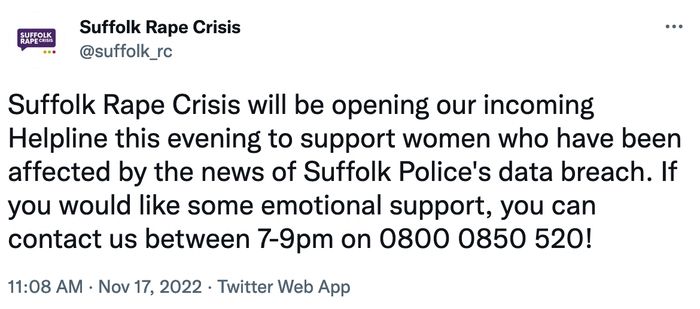 Support groups like Suffolk Rape Crisis are concerned that only a low number of survivors of sexual assault report offences to the authorities, and that data breaches undermine victims' confidence in the trustworthiness of the police.
Victims of sexual assault expect to have the right to a lifetime of anonymity, but the seemingly careless actions of the police on this occasion appear to have destroyed that.
Quite how the highly sensitive data ended up on the Suffolk Police's website is unclear, and is the subject of an investigation.
"Suffolk Police were made aware that some personal information, which should not have been uploaded, could be accessed via the constabulary website. This matter was quickly resolved and the information can no longer be accessed. An investigation is now taking place into how this error occurred," said a spokesperson for Suffolk Police. "The Information Commissioner's Office has been notified of this incident. We do take our obligations under the Data Protection Act very seriously."
Tim Passmore, the Suffolk Police and Crime Commissioner, issued an "unreserved apology" for the privacy breach. "It is absolutely right that a full investigation of this data breach is now taking place and I will be kept updated on this," he said. "I need to know how this error occurred and be reassured measures are in place to avoid it happening again."
UK data watchdog the Information Commissioner's Office (ICO) has confirmed that it is looking into the incident.
Suffolk Rape Crisis said in a tweet that it encouraged any women who felt traumatised or overwhelmed by the data breach to look after their wellbeing, and offered themselves as emotional support if required.


[ad_2]

Source link